MINIATURE FILTERS
Fixed Analog Active Filters
Anti-Aliasing - AS Series

Valuable board space can now be saved by AS series miniature filter module. User is able to maximize system bandwidth, minimize sampling rate and still obtain anti-aliasing attenuation greater than 80 dB at 2 times of the cut-off in a 16 pin DIP package.
Features include:

CUSTOMER SPECIFIED FREQUENCY
Your choice of -3 dB Frequency.
Customer modifications available at
No additional charge.
EXTREMELY SMALL.
0.45" L x 0.47" W x 0.40" H (8 pins)
0.85" L x 0.47" W x 0.40" H (16 pins)
1.05" L x 0.47" W x 0.40" H (20 pins)
ANALOG ACTIVE FILTER
RC active filter.
Not switch ­ capacitor filter.
COMPLETELY ASSEMBLED
Fully finished module.
No external component required.
IDEAL FUNCTION BLOCK
Low output impedance
High input impedance.

STANDARD RESPONSES
Butterworth, Bessel, Chebyshev.
STABLE OUTPUT
Unity gain output
Amplification available. (Up to 1000 times).
COMPENSATED DC OFFSET
Internal DC offset <2 mV.
External adjustable to 0.0.
BUILT-IN DECOUPLING
Internal power supply decoupling.
SINGLE /DUAL POWER SUPPLY
Single Supply: 15.0 V & GND.
Dual Supply: ± 15.0 V & GND.
LOW POWER CONSUMPTION
1 mA of supply current per unit.

Suggested Applications
APPLICATIONS

Anti-aliasing Filter
A/D Pre-Filter
Smoothing Filter Integrator
D/A Post Filter
Band-limit Amplifier
Sub-Sonic

ABSOLUTE MAXIMUM RATING

| | |
| --- | --- |
| Supply Voltage | ± 15 V to ± 5 V |
| Input Voltage | ± 12 V |
| Output Swing | ± 12 V (2k load) |
| Dynamic Range | > 90 dB |
| Operating Temp. | |
| | 0° C to 070° C |
| | - 25° C to 085° C |
| | - 55° C to 125° C |
| Storage Temp. | - 65° C to 150° C |
Case Style & Outline Dimensions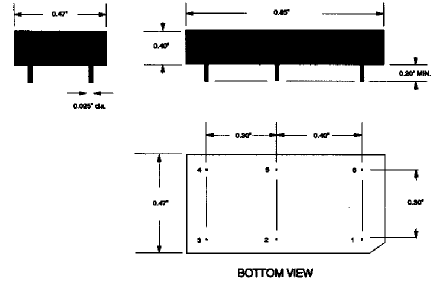 TYPICAL MODELS
PIN
ROLL-OFF
TYPE*
PACKAGE
AS1112
12 dB @ 2Fc
LP
8 pins DIP
AS1113
18 dB @ 2Fc
LP
8 pins DIP
AS1114
24 dB @ 2Fc
LP
8 pins DIP
AS1115
30 dB @ 2Fc
LP
16 pins DIP
AS1116
36 dB @ 2Fc
LP
16 pins DIP
AS1117
42 dB @ 2Fc
LP
16 pins DIP
AS1118
48 dB @ 2Fc
LP
16 pins DIP
AS1119
54 dB @ 2Fc
LP
20 pins DIP
AS11110
60 dB @ 2Fc
LP
20 pins DIP
AS11111
66 dB @ 2Fc
LP
20 pins DIP
AS11112
72 dB @ 2Fc
LP
20 pins DIP
AS1102
15 dB @ 3Fc
LP
8 pins DIP
AS1103
21 dB @ 3Fc
LP
8 pins DIP
AS1104
23 dB @ 3Fc
LP
8 pins DIP
AS1105
26 dB @ 3Fc
LP
16 pins DIP
AS1106
30 dB @ 3Fc
LP
16 pins DIP
AS1108
51 dB @ 4Fc
LP
16 pins DIP
AS11010
58 dB @ 4Fc
LP
20 pins DIP
AS11012
62 dB @ 4Fc
LP
20 pins DIP
AS1122
13 dB @ 2Fc
LP
8 pins DIP
AS1123
22 dB @ 2Fc
LP
8 pins DIP
AS1124
30 dB @ 2Fc
LP
8 pins DIP
AS1125
40 dB @ 2Fc
LP
16 pins DIP
AS1126
50 dB @ 2Fc
LP
16 pins DIP
AS1128
72 dB @ 2Fc
LP
16 pins DIP
AS11210
65 dB @ 1.5Fc
LP
20 pins DIP
AS11212
75 dB @ 1.5Fc
LP
20 pins DIP
AS2114
24 dB @ 0.5Fc
HP
16 pins DIP
AS2116
36 dB @ 0.5Fc
HP
16 pins DIP
AS2118
48 dB @ 0.5Fc
HP
16 pins DIP
NOTE:
**FILTER TYPES: LP = Lowpass, HP = Highpass
**RESPONSE SHAPE: B = Butterworth, L = Bessel, C = Chebyshev
Specifications

ELECTRICAL CHARACTERISTICS
(Supply = ±15V., Load = 10 k‡, Temp. = 25° C)
Supply Current
10 mA
Input Impedance
> 500 kohm
Output Impedance
< 1 ohm (@ DC)
Cut-off Variation
± 2%
Frequency Stability
0.01 % /°C
Unity Gain Output
0.0 dB
Max. Input Voltage
± 12 V.
Max. Output Voltage
± 12 V.
DC Offset
< ± 2mV
MECHANICAL CHARACTERISTICS
Dimensions
0.45" x 0.47" x 0.40" (8 pins)
0.85" x 0.47" x 0.40" (16 pins)
1.05" x 0.47" x 0.40" (20 pins)
Pin Diameter
0.025"
Materials
Glass Filled Thermoplastic Nylon
Socket
Monolithic 16 pin DIP Socket

OPTIONS
Suffix
Description
L ­
Low power consumption (20mA)
I ­
Industrial temp. range (-25° C to 85° C)
M ­
Military temp. range (-55° C to 125° C)
A1 ­
10x amplification

A2 ­

100x amplification

A3 ­

1000x amplification

S­

Single supply (+5 V to + 18 V )

D ­

Differential Input
| About Us | Product Index |
Avens, Inc.
P.O. Box 518 Plumsteadville, PA 18949
800-394-5407
Tel: 215-766-8775
info@avens-filter.com • www.avens-filter.com